Opinions »
Game on Brazil
With the World Cup this summer and the Olympics in 2016, all eyes are on Brazil to see what it will deliver.
John Hooker gives a sneak preview.
There is nothing like a global tournament to put the spotlight on the chosen destination. The World Cup has brought this BRIC economy under the gaze of the world's event buyers and this means slaying some of the myths about the country from the past.
The country can be split into Rio and Brazil as for many, Rio is iconic Brazil and that is where most of the interest is for the World Cup. Other cities play host but given that Sao Paulo and Rio respectively are the major entry points for Brazil, they tend to get the attention.
What World Cup has done is show buyers that Brazil is indeed a vast country, the 7th largest in the world and distances between cities are great and require a flight. The internal air network is surprisingly good and combines low cost with scheduled air choices. It is how Brazilians move around so there has been pressure for seats for those following their teams.
Sao Paulo is the powerhouse of Brazil and arguably South America and the city continues to grow with construction across the city, the metro being extended and plans to try and improve the legendary traffic of the Southern Hemisphere's largest city (pop circa 20 million). This is a city which is meetings centric and as a major hub cannot be ignored especially as 80% of the corporates are based here.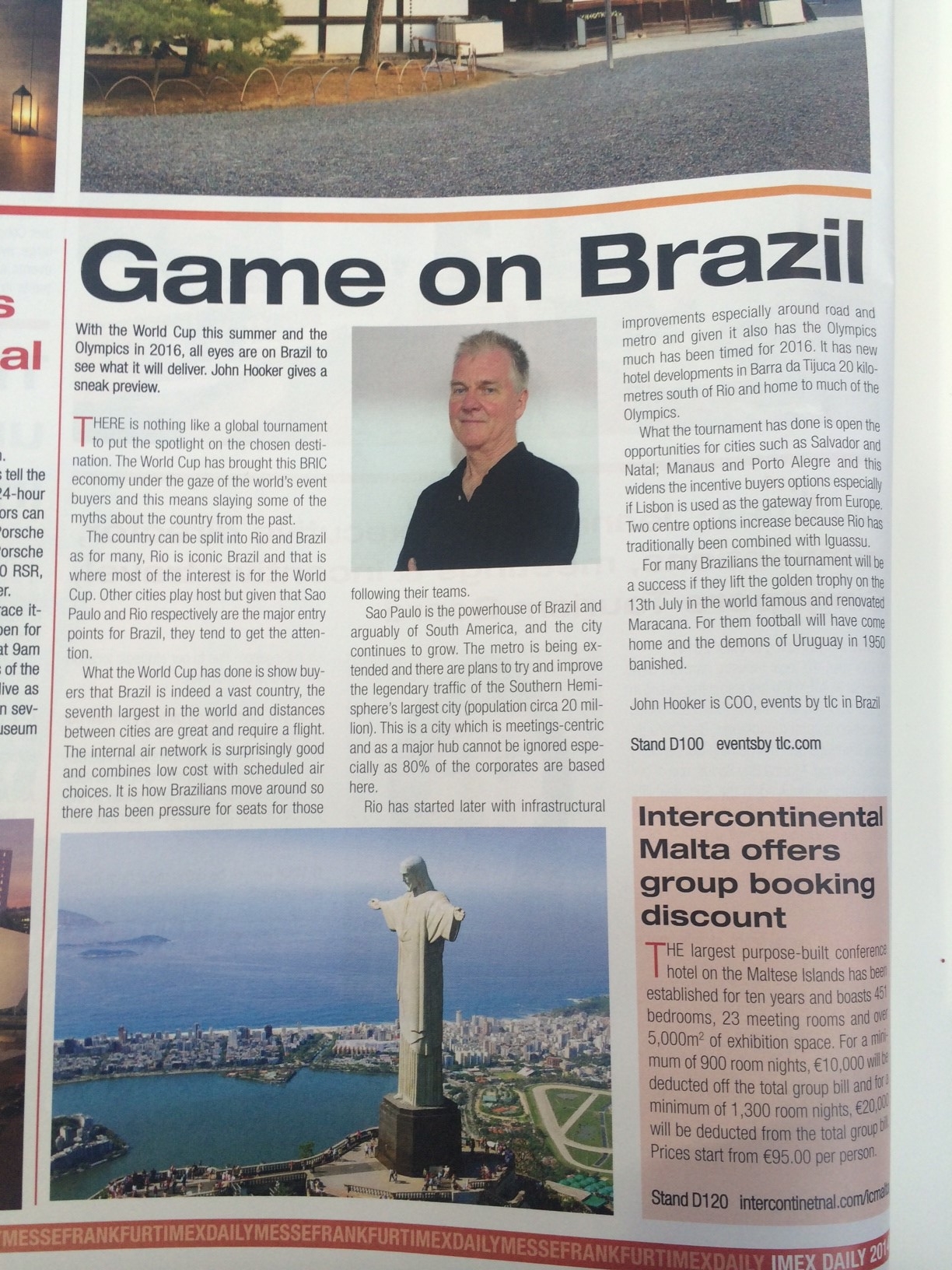 Rio has started later with infrastructural improvements especially around road and metro and given they also have the Olympics much has been timed for 2016. It has new hotel developments in Barra da Tijuca 20 Kms south of Rio and home to much of the Olympics.
What the tournament has done is open the opportunities for cities such as Salvador and Natal; Manaus and Porto Alegre and this widens the incentive buyers options especially if Lisbon is used as the gateway from Europe. Two centre options increase because Rio has traditionally been combined with Iguassu.
Much has been done with the communities (formerly Favelas) to reduce drug gang influence and crime and many have been "pacified" and are now peaceful being policed by locals who know the communities well. More is being done but it is a great start to an age old problem.
For many Brazilians the tournament will be a success if they lift the golden trophy on the 13th July in the World famous and renovated Maracana. For them football will have come home and the demons of Uruguay in 1950 banished.